So you've decided to brave the great outdoors and embark on a family camping trip. One of the most important decisions you have to make is what type of family tent to buy. While at first it may seem like an expensive undertaking, it will be one that will pay for itself over and over again for years to come. Just think what decent hotel rooms cost per night for a family of five! When searching for the perfect camping tent, there are a few important things to keep in mind before making your final purchase https://mywatchbegins.com/best-family-tent/ .
Camping tent manufacturers often overestimate the number of people who can fit comfortably in a tent. As a rule of thumb, always add one or two people to your estimate when buying a tent for your family. If you plan on camping with two adults and three children, look for a family tent that can sleep seven or more people.
Quality tents come in two basic categories: three season and four season. Most of the time, a three season tent will be enough to suit your needs. Three season tents can handle the most likely weather conditions you will encounter. They are designed to keep you comfortable in the warm summer months with ample ventilation as well as during a light snowfall. Four season tents are designed for the cold and heavy snowfall and don't have the ventilation of a three season tent.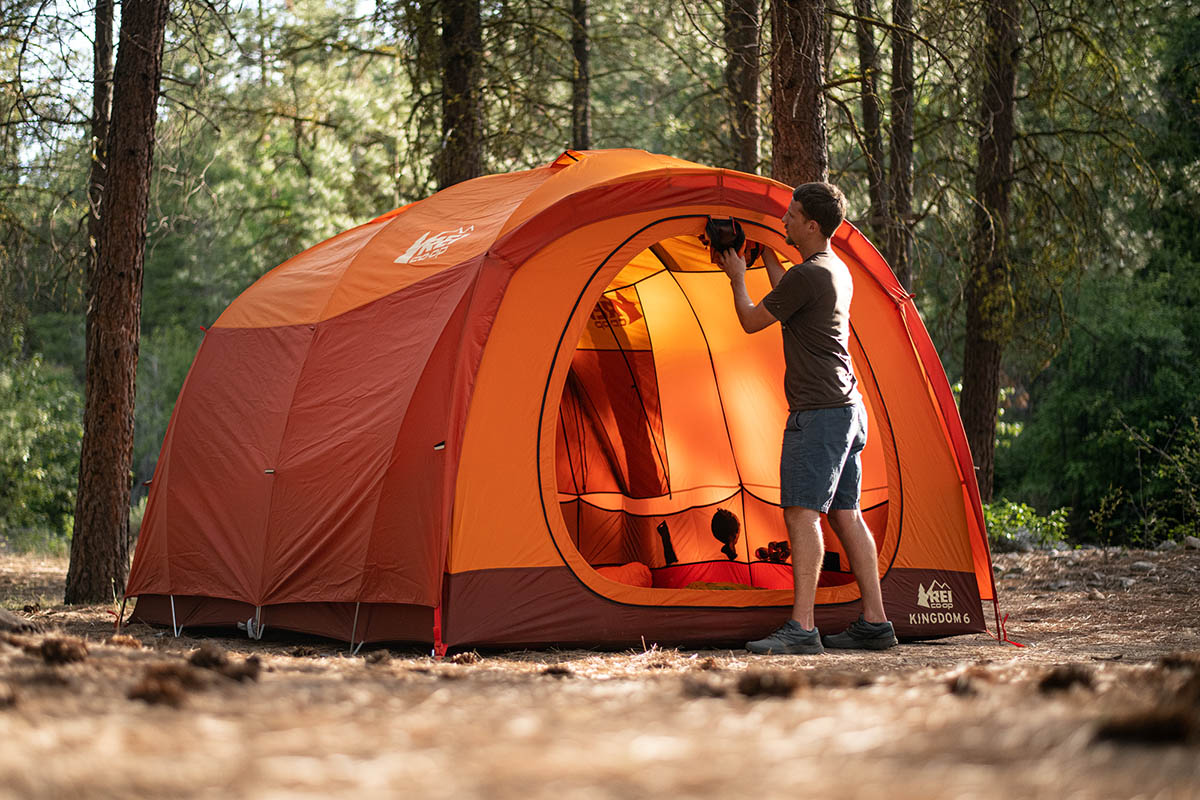 There are three season family tents that are designed to be convertible into four season tents, but they are usually more expensive. If your camping plans don't include trips in rough weather conditions, it's probably not worth the extra cost.
You also need to decide which family tent shape works best for you. The two most common designs are cabin and dome tents. A cabin tent resembles the shape of a house or cabin. They are usually roomier and will allow an average-sized adult to stand up inside the tent. A dome is more igloo-shaped and generally don't have the same headroom as the cabin style. Both family tents usually come with a zip-down divider which will give some privacy. Or you can leave the divider up and have one large, common sleeping place.
Dome family tents are simpler in design to set up. They also travel easier-the stakes and tent can fit into one backpack for easy hiking. Dome tents are preferable in areas where you may expect high winds, since the shape stands up better and you run less of risk of collapsing due to the conditions.
Cabin family tents require a bit more practice setting up and, their shape may make them more prone to collapse. Cabin tents also require more effort to pack. Usually the poles are in one bag, while the tent itself is another. Remember though, cabin tents usually provide more room and much more "walking space" inside.
Both types of tents make excellent accommodations for family tent camping. Regardless of what type to family tent you decide to purchase, always remember to have some type of ground cloth underneath the bottom of your tent. It will keep the inside of the tent drier and will protect it from any jagged edges from rocks or branches. A painter's tarp is cheap and effective ground cloth that will protect your tent for many years to come.
Grand Isle State Park is the first preference of many Family Campers. It is located approximately 110 miles from New Orleans or 174 miles from Lafayette, Louisiana. This campground has accommodations for fifty-five families, that include R.V. Camping and Family Tent Camping. It is located on the Gulf coast and has many amenities that make it seem like you are still at home. There is even a private swimming area of the Park.
This has always been one of my favorite campgrounds because of the number of activities that are available. There is salt water fishing, crabbing, and even shrimping when the season is open (of course the proper licenses can be obtained nearby). Open campfires to cook the day's catch, and the peace and tranquility after the day is done. The sound of the sea rolling in, is the best sedatives for sleep for myself. Looking at the sunrise over the open water and hearing the sounds of the seabirds is a sight to behold, on a family camping trip.
One of the other benefits is the trip over the marshland in route to Grand Isle. A toll bridge extends from Leeville, Louisiana to Port Fouchon, Louisiana is approximately seven miles long and I have seen some of the most magnificent sunrises and sunsets on this drive. Fisherman and people crabbing on the sides of the road a common sight on the trip.